---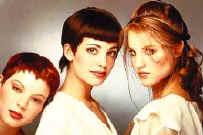 Electrolysis is still the only method of permanent hair removal with over 120 years of proven results, safety and reliability. Electrolysis holds out hope for everyone with an excess of unwanted hair. The process destroys the hair root by using a short wave frequency administered by a Certified Clinical Electrologist inserting an ultra fine probe into the hair follicle.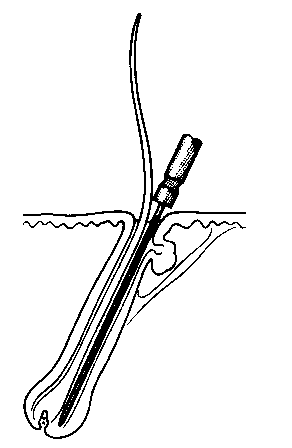 Here is the insertion of the probe
along the right side of the hair shaft
Introducing the NEW Apilus® Platinum Pure
TM epilator by Dectro International.

The Apilus® Platinum PureTM offers the comfort and effectiveness of the ultra rapid 27 MHz frequency.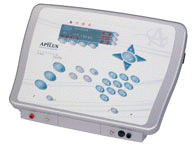 Key Benefits
Permanent Hair Removal for over 125 years...
Can remove light hair...
Can be done on any skin type.
Excessive hair - on face, arms, legs, abdomen - can be a result of hormonal functions or imbalances, medication or stress. Women and men with this problem suffer needlessly in silence - electrolysis can eliminate this unwanted hair forever. It is especially effective in shaping eyebrows and with people having dark skin and/or light (blonde, white or gray) hair.
We offer a first time complementary consultation to analyze the skin, history of hair growth, cause of excess hair and probable length of treatment. While most clients begin with the most obvious visible problems, they often continue with treatments to get rid of annoyances like underarm hair or to improve their bikini line.

---
---
History and Types of Electrolysis
Electrolysis was developed over 100 years ago by an ophthalmologist for the treatment of ingrown eyelashes. Today, with improved technology and education, electrolysis is utilized to permanently remove a variety of unwanted hair located on different areas of the face and/or body.
Permanent hair removal by electrolysis is accomplished by using a device called an "Epilator". By gently inserting a very fine filament or probe (about the same diameter as a hair) into the hair follicle the Electrologist eliminates the growth source of the hair (the papilla) by a precisely controlled electric current. The current may be used in one of three ways. These different ways or methods are known as modalities. Each modality creates a specific action in the hair follicle.
Short Wave is high frequency radio energy or RF, which sets up a rapid oscillation or vibration in the cells of the follicle, producing heat. This heat then cauterizes the papillary tissue.
The Galvanic Method uses direct current to produce sodium hydroxide in the follicle, which then chemically acts to annihilate the papillary tissue.
The Blend Method combines both of the previously mentioned modalities into one probe and, with the oscillation of the RF current, produces heated sodium hydroxide to destroy the papillary tissue.
The modality chosen by your Electrologist is the one that your Electrologist prefers to use based on your hair type, skin characteristics and sensitivity, and their own experience. Remember, it is not the equipment your Electrologist uses that is important (since ail three modalities are recognized to be effective), but it is the skill and expertise of your Electrologist that is paramount. In the hands of a skilled practitioner, any of these methods will be effective.
Hair begins to grow in an area with a major follicle producing a coarse hair, surrounded by finer follicles that may or may not be producing hair at this time. It will often seem, after some electrolysis treatment, that the treated hair is regrowing somewhat finer. But here's what's really happening. The treated hair has been permanently removed. However, since we treat an effect (hirsutism), not a cause (androgen production), a finer follicle adjacent to the treated hair may now be stimulated by the existing androgens to produce a hair. It is finer since it grows from a finer follicle. The hair that seem to appear as regrowth often is in reality additional adjacent hair now beginning to grow. This is the reason it takes time to accomplish permanent removal of all the hair, the ones that are visible and growing and also those that have the potential to grow. When a hair is treated properly by electrolysis, it is removed PERMANENTLY and can never return.
With a series of regular treatments, all the hair follicles that are stimulated to produce hair in an area will be treated and the area should become hair free. It is very important to note that a series of REGULAR treatments will accomplish better total results in a shorter overall period of time.
Electrolysis is NOT considered to be a painful procedure. However, people have different levels of sensitivity and something that is completely comfortable for one person may be less comfortable for another person, Most people undergoing treatment for the first time often say, "if I knew that's ail there was to it, I'd have been here a lot sooner." Please realize, however, that tissue is being treated and that a sensation is to be expected.
Since 1875 electrolysis has been proven to permanently remove unwanted hair . Its permanency has been recognized by the medical profession with hundreds of articles having been written and published in the medical literature archives.
How Long Will It Take To Remove All My Excess Hair?
This is by far the most difficult question to answer briefly. Many different factors determine the length of time necessary
to completely remove all your unwanted hair. They are:
The type of hair you have-straight, wavy, curly

What temporary methods of hair removal you have previously employed.

The kind of skin you have-normal, fine or super-sensitive

Your metabolic rate--how quickly your skin heals, how fast your hair grows

The location of the hair (some areas must be treated more slowly than other)

The quantity of hair to be removed
The cause of your hair growth.
Add to this the frequency of treatments, because the more regularly you take treatment the quicker you will be rid of your superfluous hair.
Fees for Electrolysis treatment are generally reasonable and in line with other allied health care procedures. Temporary methods are actually more costly over time because they are unending. Electrolysis, on the other hand, because it is permanent, will give you the freedom from unwanted hair for a lifetime and is actually less expensive in the long run. An Electrologist's fee is based on experience, education, and ability. When it comes to your health and well being, your objective should always be quality rather then price. This is certainly an area where experience has consistently shown that "you get what you pay for."